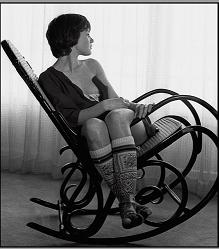 Have you ever asked, that strange obsession of some people… sew (we spoke of women, peculiarly I don't even meet a men who did it, although probably there's someone). Clothes, pictures or any other material of multiple forms.
Generally when we talked about people who sew, come to my mind the typical grandmothers seated in its rocking chair doing it. And if we stopped ourselves successively to think… a rocking chair which it hisses, that balances (ahead back, ahead back, successively) as long needles as a hand span (that move with masters) and eyes outside they orbit, fixed to a point, without blinking. Its really quite frightening the vision.
And sincerely I don't feel the affective and familiar heat of the grandma, other things come to the mind ¡autistics (balance) assassins (super needles)!!So it's so I have tried to find a point in common to these people whom they tile. Before explaining the conclusions at which I have arrived, I must expose the truth because… ¡when I was young I sew the picture of a cat!! … My fault, even so, you cannot judge me, certainly in some ages you need to experience new things and new forms of life. If you are going to feel better, I leaves it, always I have been very butcher with the things that do not contribute anything to me.
At first nothing saw of individual, avoiding the similarity with the spiders. But peculiarly, those people (at least the young ones) have a remarkable emotional instability. I don't talk about that their couple is unstable with them, but rather the other way around, they are: unfaithful, false, spiteful and they try to pretend someone different. They try to play a role in the world and its life, a paper that makes them unhappy (because after all they aren't this way!).
Maybe it's just that they are anxious people unsatisfied, people who don't find their place in the world or people who need to be constantly in different situations and with different people.
Then, its hers fault? its fault of the art of the seam?Sincerely, I'm not sure. Chances, paranoia, fiction or reality?
If I have to give my opinion, I prefer don't be close to them.